We're At It Again...
10 Photographers, 4 DJs, 2 Bands, Open Bar & Non-Stop Shopping!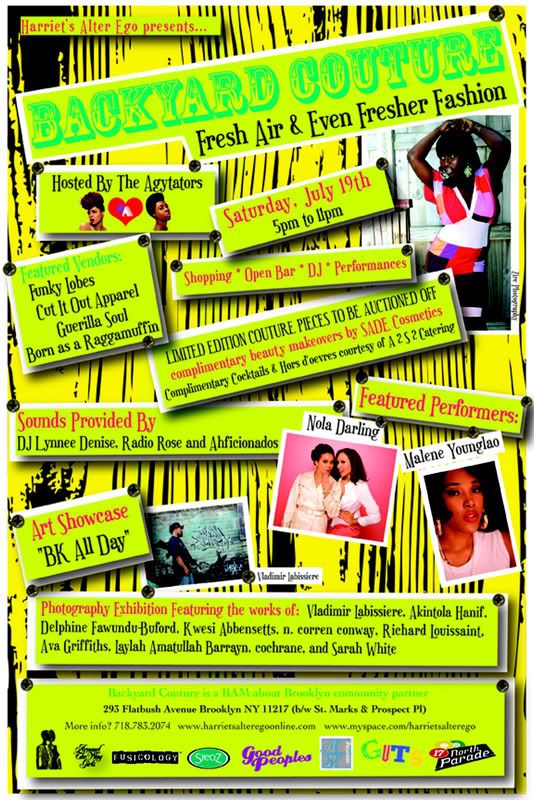 If you were at the last installment of Backyard Couture you already now how crazy it was! Close to 300 beautiful people came through and shopped, drank, partied and shopped some more(and drank some more...what yall know about that rum punch?...yeah!).

Well this edition of Backyard Couture, is promising to be just as great... we'll have 4 DJs spinning including K-Salaam from VP Records & Radio Rose (Missbehave/Around The Way Girls), our home girl #1 Lynnee Denise & our favorite part-time DJ/part-time romancer Frei of the Ahficionados!

Also, BackYard Couture coincides with the opening of BK ALL DAY- hosted by the AGYTATORS- BK ALL DAY is a group show featuring work from 10 Amazing Brooklyn Photographers.
PLUS... were taking a break from our rum punch to have the amazing duo from 'A Squared S Squared' Catering serve up FREE Sangria and tasty Hor D'oevres.
Last but not surely not least SHOP OUR OUTDOOR MARKET featuring

Funky Lobes

Cut It Out apparel

Guerilla Soul

Born as a Raggamuffin

*** Backyard Couture is going down Rain or Shine ***